Biker Safety
Why read this advice?
Anyone who rides a motorcycle or scooter knows that they can be the fastest way from A to B. Riding them is also exhilarating. And word is getting around­ more and more people are taking up motorcycling. But with traffic conditions these days, it's more important than ever that you are able to deal with the unexpected.
These pages offer some tips for safer riding. Take a look even if you've been riding for years. Injuries are rising. Make sure you don't end up as a statistic.
Whether you ride to get to work, are an enthusiast riding every day, or just get your bike out on a sunny day­ make sure it doesn't happen to you.
Buy the right gear before you head out.
Here's what you need:
An approved helmet that fits securely. Replace it if you think it is damaged. A white or brightly coloured helmet can help you to be seen. Make sure your visor is not dirty or scratched and remember not to wear a tinted visor or goggles at night. You can find advice on getting a safe helmet on sharp.direct.gov.uk, the website of SHARP, the Safety Helmet Assessment and Rating Programme.

Good clothing ­ and that means jackets, trousers and boots. The best is CE marked and can protect you from getting hurt if you come off. It should be fluorescent during the day and reflective at night.
Clothing which also protects you properly from the weather will not just make you feel more comfortable, it will also allow you to focus more on your riding.
To keep out of trouble you've got to be good.
If you're already good, make yourself even better.
Make sure you:
Anticipate the actions of motorists.
Are alert and observant. Important when you are negotiating junctions or roundabouts; and when you need to look out for other vulnerable road users­children, pedestrians, cyclists and horseriders.
Ride at a speed that will enable you to slow down and stop in good time. The unexpected can happen. And ride according to the conditions: slow down if it's wet, foggy or icy.
Position yourself in the best place. Usually the middle of the lane. But take up your road position in good time before turning right or left, showing others what you aim to do.
Overtake safely. Can you see hazards? Is there a bend or a junction? Can you overtake without speeding up or swerving too much?
Take a 'lifesaver' glance over your shoulder before carrying out manoeuvres when you need to know where other drivers are and what they are doing.
Are seen. Dipped headlights, even in good daylight, can help you to be seen.
Sometimes other drivers will wind you up. But if you act aggressively you may have to pay the penalty. Count to ten and congratulate yourself on your cool-headedness. And however tempted you are, don't race on public roads. Save it for the race track.
It's a jungle out there!
Sports bike riding is on the increase. As motorcyclists take advantage of the relative emptiness of rural roads to test their vehicle's ­ and their own ­ full potential, the risk can be far too high. In 2004, some 353 riders were killed and 2,201 seriously injured in accidents on non built-up roads. In many of these accidents no other vehicles are involved. Too often riders don't have the skills to handle their machines.
Every year bikes get faster, more complex and more expensive. Every year the roads get more crowded with boy racers, white van men and lane-hogging trucks. Every year you need to be sharper, more aware, at the top of your game every time you pull on your leathers and hit the starter button. Unfortunately every year most of us get a bit lazier, a bit more complacent and our skills get rustier. Instinct and quick reactions on their own aren't enough ­ the road is dangerous... You need to THINK!
"But I'm already a good rider, it's other road users who cause the problem."
Oh really? Does any of this sound familiar?:
I often find that corners suddenly tighten up on me.
I sometimes find I only just get away with overtaking.
When I ride with my mates, I seem to have to thrash my bike to keep up, although I know they're not going any quicker than I usually do when I ride on my own.
People are always pulling out on me and forcing me to take avoiding action.
I'm not sure how to set my suspension up for the kind of riding I do.
I worry about how secure my bike is, even when it's locked up.
As soon as it rains all my confidence disappears.
If any of these scenarios ring a bell, there are some easy ways to improve your skills.
1. You can learn from your mistakes. But every mistake hurts. Life's too short, and likely to get even shorter if you take this option.
2. You can learn from your mates. But how good are they anyway? How do you choose what's good and bad advice?
3. Or you could learn from an expert. Someone who spends all day every day in the saddle, who knows every trick in the book AND who knows how to pass that knowledge on to others. You might even end up with discounts on insurance, clothing and accessories.
So what can you do about it?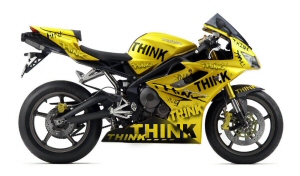 Before deciding on a training course, it's worth finding out just where you're at and what you need to know, and there are plenty of organisations that can help. Assessments are carried out by professional riders who know how to analyse your riding and come up with a programme that's right for you.
BikeSafe is a national initiative run by police forces around the country which aims to reduce motorcycling casualties. West Midlands Police run regular two day workshops from the West Midlands Police Training Centre at Tally Ho, Edgbaston, Birmingham. For more information on the programme, or to check the latest available dates, visit BikeSafe West Midlands.
Information on BikeSafe workshops in other areas can be found at the BikeSafe website.
Any of these organisations can also point you in the right direction for a professional assessment:
The Driving Standards Agency (tel: 0115 901 2500);
The Motorcycle Rider Training Association (tel: 01788 538303);
British Motorcyclists Federation (tel: 0116 254 8818);
Royal Society for the Prevention of Accidents (tel: 0121 248 2000);
The Institute of Advanced Motorists (tel: 0208 996 9600);
Or check The Yellow Pages.
Once you've been assessed, you'll have a better idea of which areas of your riding will need working on. You can then focus on finding the course that's right for you. Courses can last from a couple of hours to several days. Costs are reasonable and whatever level you go for, it'll be the most cost-effective way of spending your biking pound.