Education
We believe the best way to have a long-term impact on driving attitudes and behaviour is through an ongoing programme of education and training. We constantly remind the public that cameras are about the safety of all road users and are used to slow motorists down at accident hotspots.
The West Midlands Casualty Reduction Scheme work throughout the year with our partners and other road safety partnerships in the region to run educational publicity campaigns to raise awareness of safety cameras and road safety issues in general. Our advertising campaigns are led by research into driver attitudes and behaviour, and aim to get road safety messages across as effectively as possible. Representatives from the Casualty Reduction Scheme also attend events to further raise awareness of road safety through direct contact and education with the public.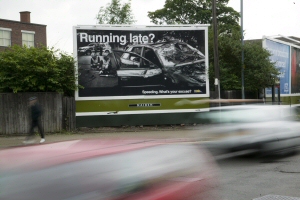 In this section you will find information about our previous campaigns and initiatives. Details of our current campaign can be found in the news section. For information on national road safety campaigns, see the THINK! road safety website.